After a year of our trip to the Netherlands and Belgium, I feel a bit nostalgic about it. I haven't yet written about it and as long as I still remember most of the details, I would want to write some notes.
What was a bit unusual was that we decided to go there by a motorhome. At the rental company where we got it, they were a bit surprised about our destination because usually their clients take motorhomes to the mountains or to the warm sea and no one ever wanted to go visit the Netherlands with their rentals.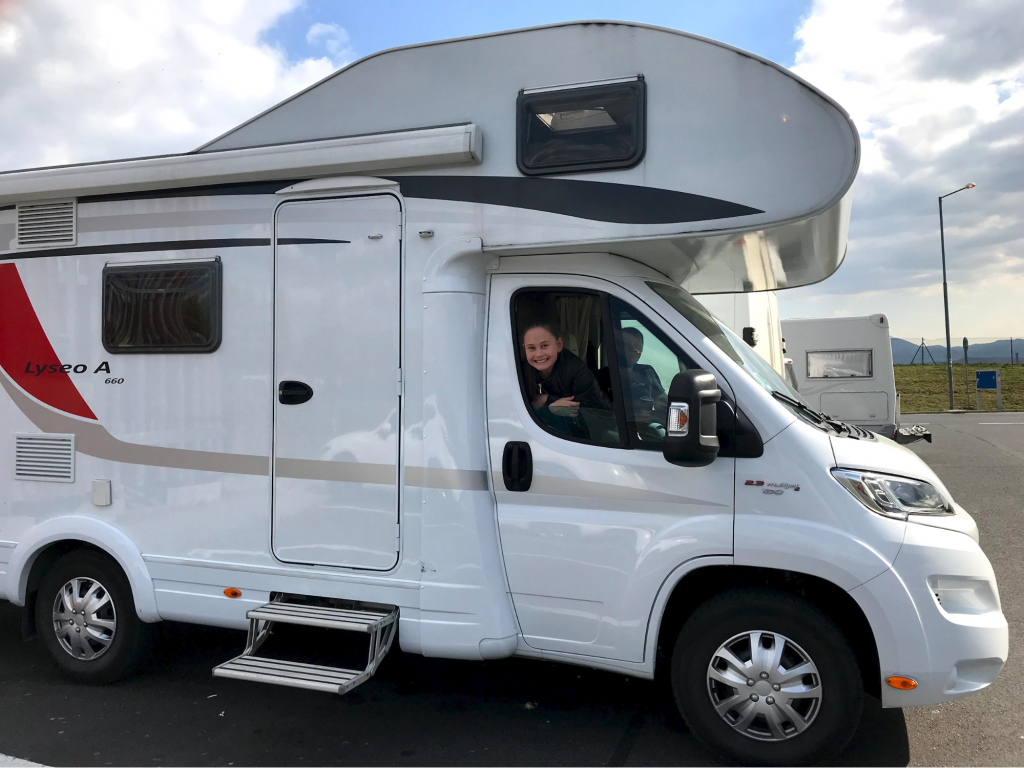 On the way from Prague to the place called De Poppe near the border of the Netherlands and Germany, we drove it in one day. We stayed in the parking lot for a night. One of the things I like about trips in the motorhome is walking around in the fresh air with a cup of morning coffee. Therefore, I started the next morning with my coffee.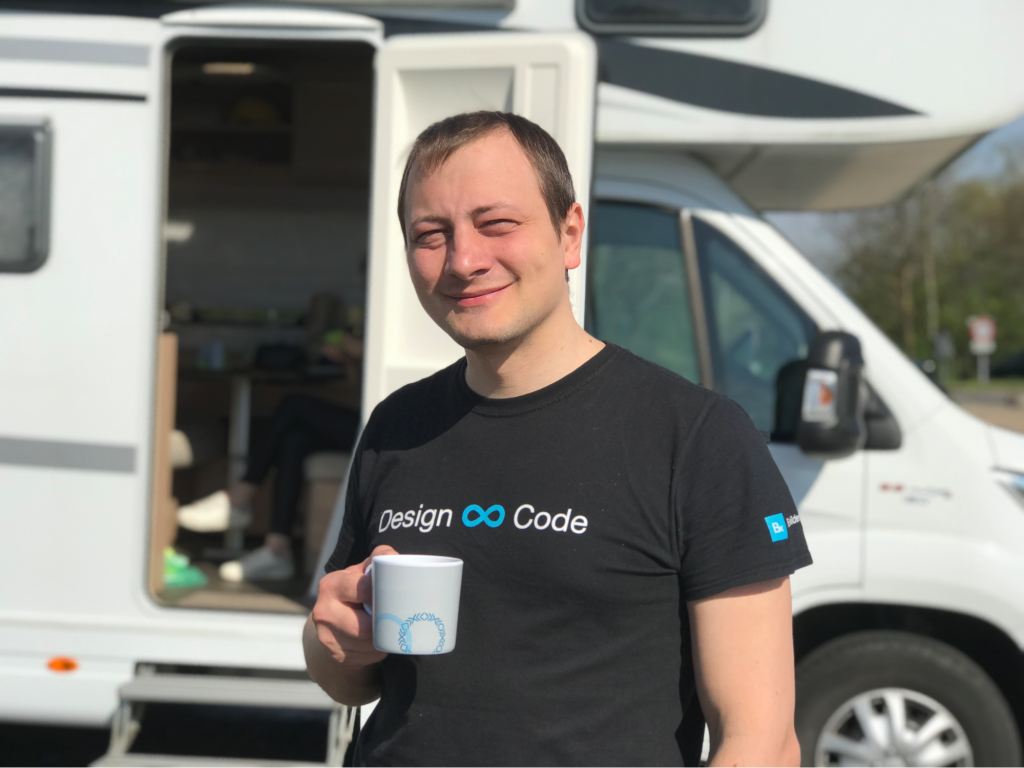 Arriving feeling fresh, we moved on. Long stripes of tulip fields were outside of the window. Our destination for that day was Dronten in the Netherlands.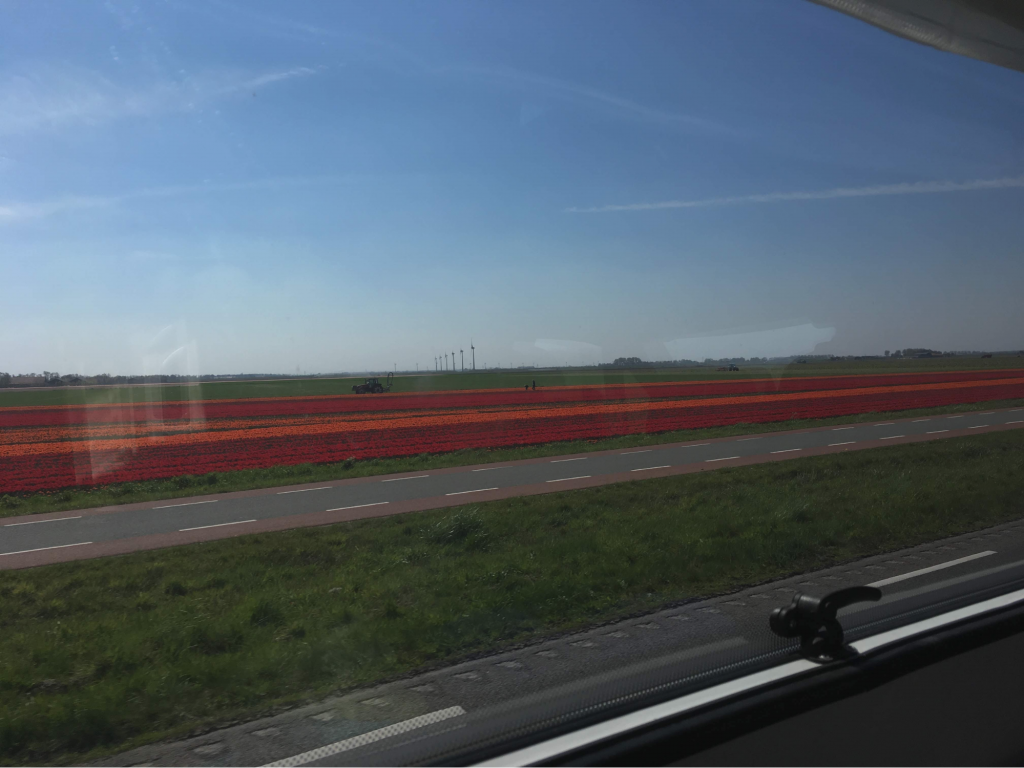 After our arrival to Dronten, we uncovered our bikes which we carried with us. The Netherlands is a bicycle country, but we looked different from normal people there because we were the only ones with helmets. 😉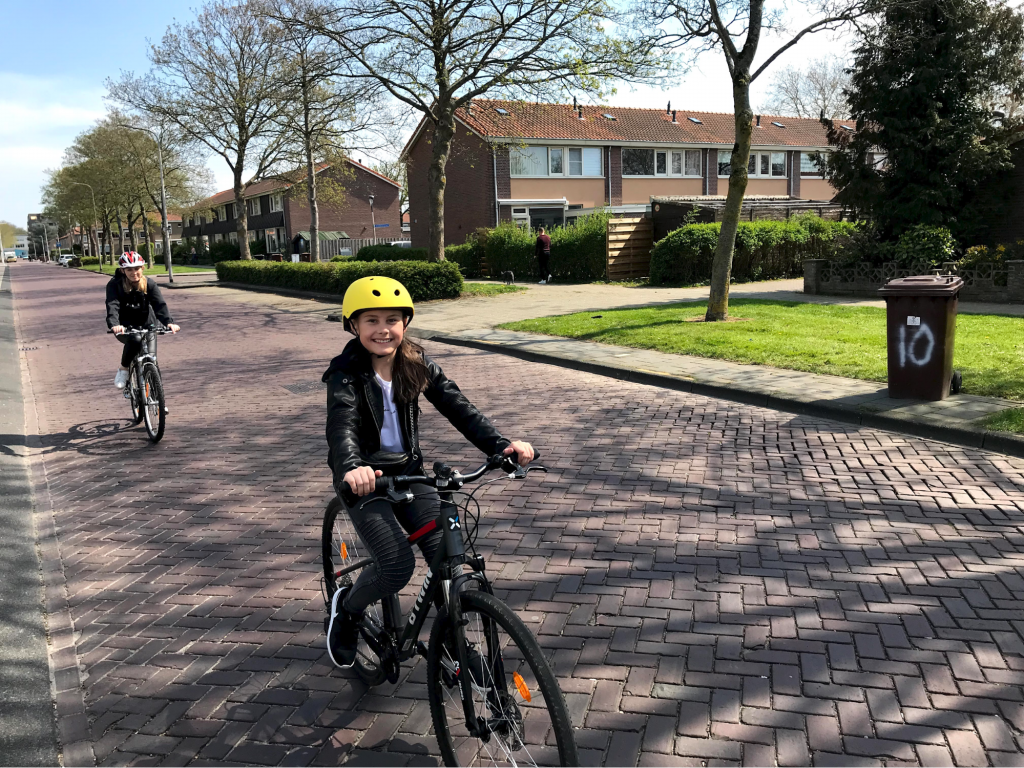 There are quite a few tulip fields around Dronton and actually this is what we wanted to see there.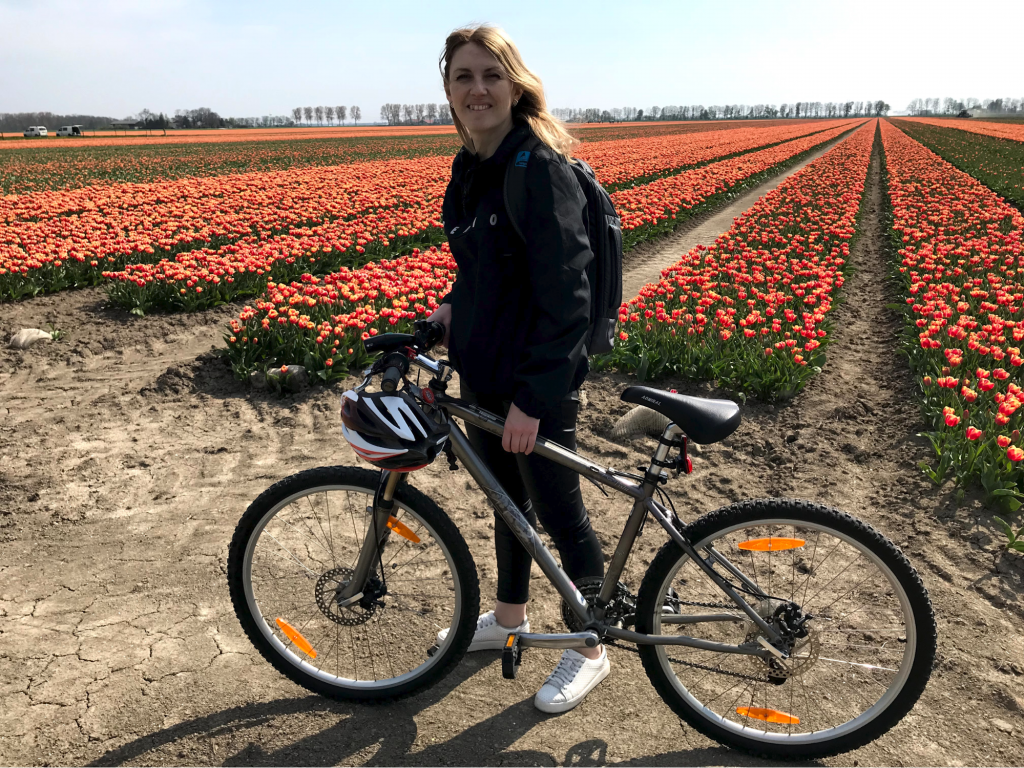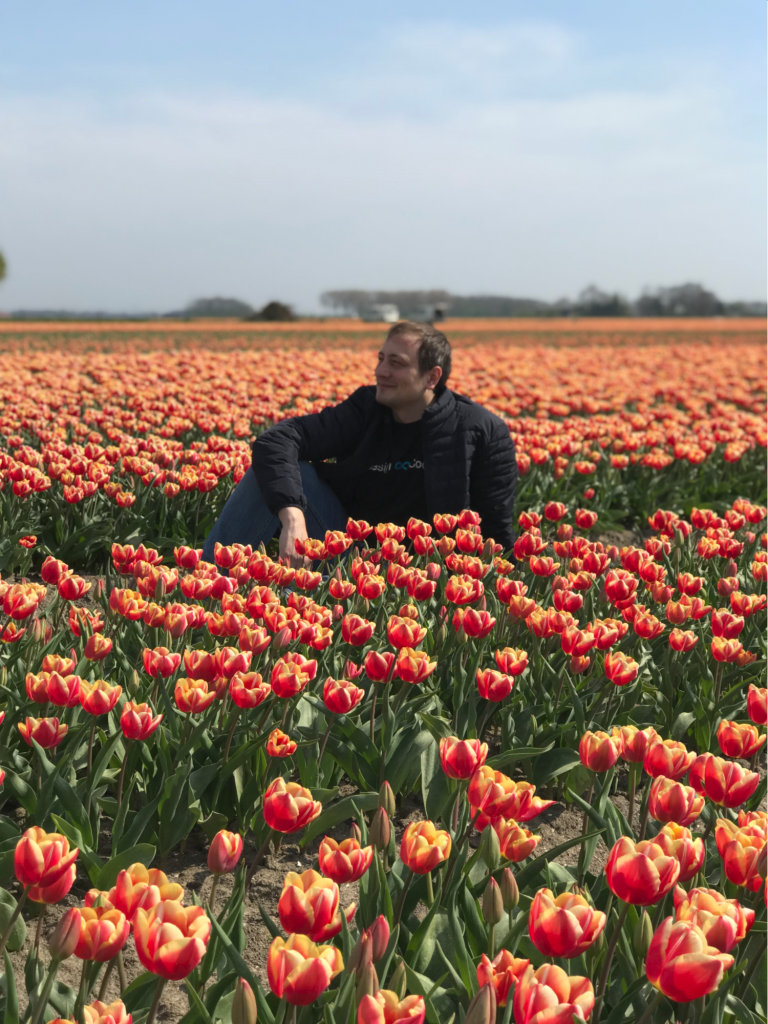 The same day, we aimed to a campsite located right in the center of Amsterdam. To be honest, I felt like an elephant in a living room, because RVs are a rare view in overcrowded Amsterdam which is usually full of bicycles. The people nearby were looking at us and it seemed that we were breaking some rules. The policemen we passed were also looking at our RV, but they did nothing to stop us. It calmed me down a bit. Anyway a bigger surprise was waiting for us at the campsite – no free spots for camper vans. Usually we don't make reservations travelling by RV and had never had a problem with it. Here in the Netherlands this approach wasn't smart. All other campgrounds around Amsterdam were out of free spots, too. The clerk, after figuring out this fact, allowed us to park on a narrow secret spot closed by a chain and with no electricity or water supply and just for the night. But actually it was a great success, all other camper vans in the queue after us didn't have such a good experience.
It was almost twilight and we were tired, but we decided to walk a bit. We didn't want to uncover the bicycles that time. Walking by foot wasn't that interesting for my daughter, so she decided to entertain herself with riding on a wave-board: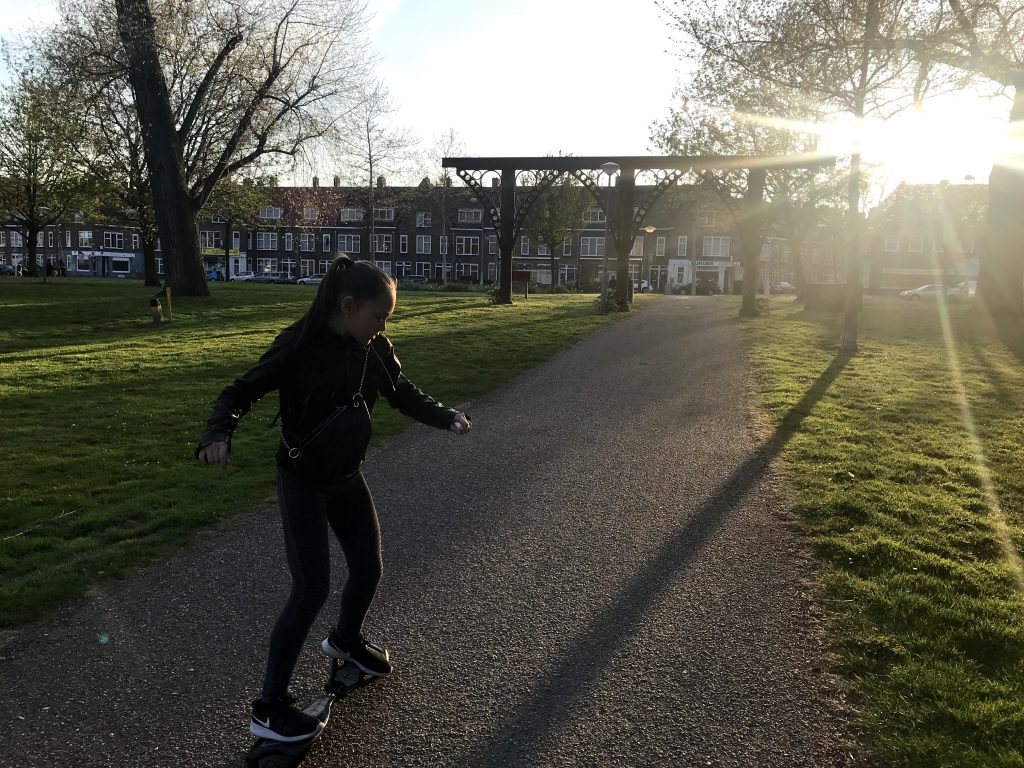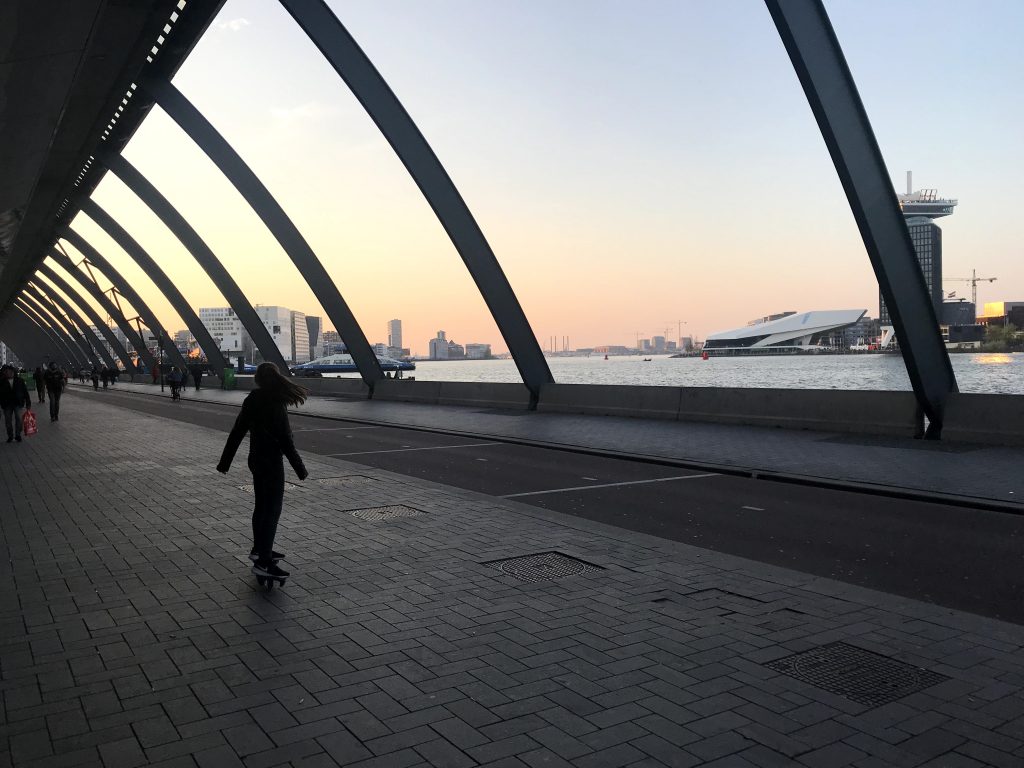 The next day we had to leave the camping and parked nearby as the clerk suggested. She also told us that we were not allowed to park there overnight, so we had to plan our next stop somewhere outside of Amsterdam unfortunately. Although that day was our last day in Amsterdam, it was quite intense.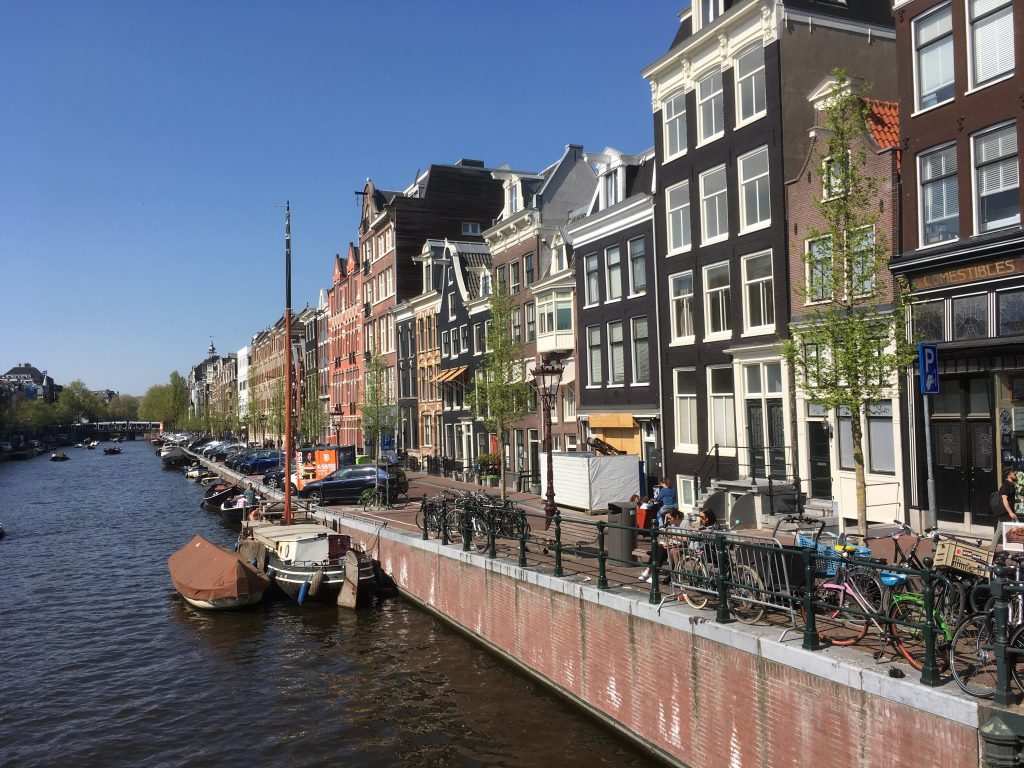 Facades of buildings are tilted. Nearly each house has a hook at the top. Windows are large. And there is a reason behind this design: if people need to get large stuff to high floors, they leverage the hooks to lift the things up and then bring them in through the large windows.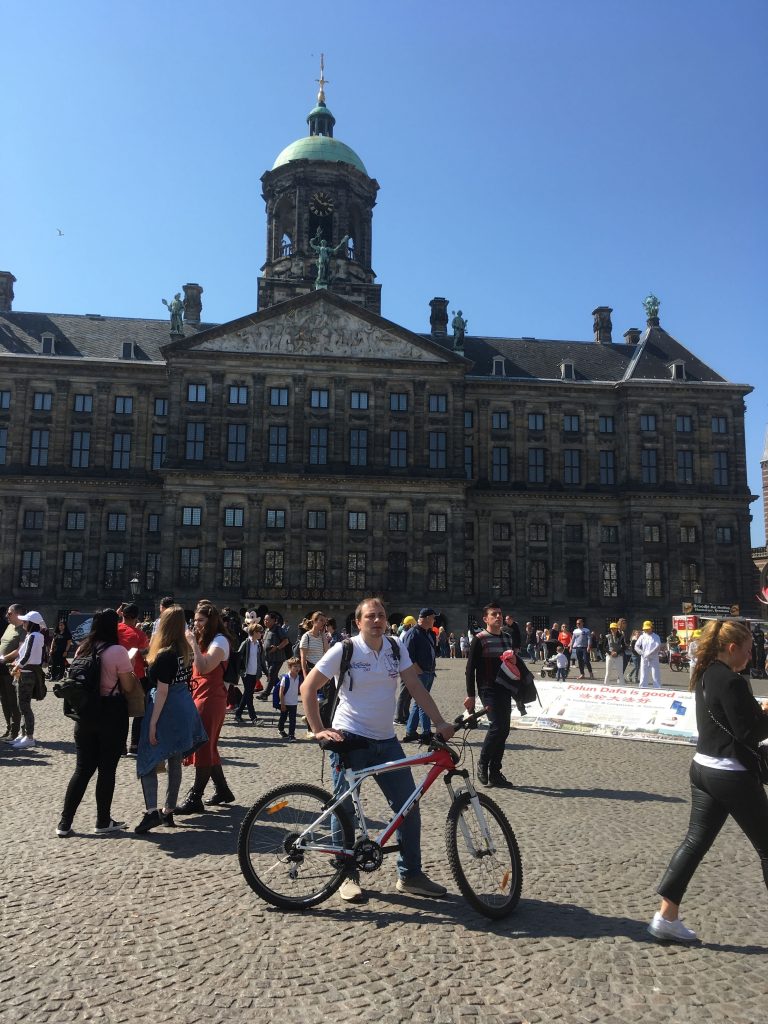 It's very easy to spot crazy Czech-Russian tourists that came by RV because there are no other people with mountain bikes in the city 😉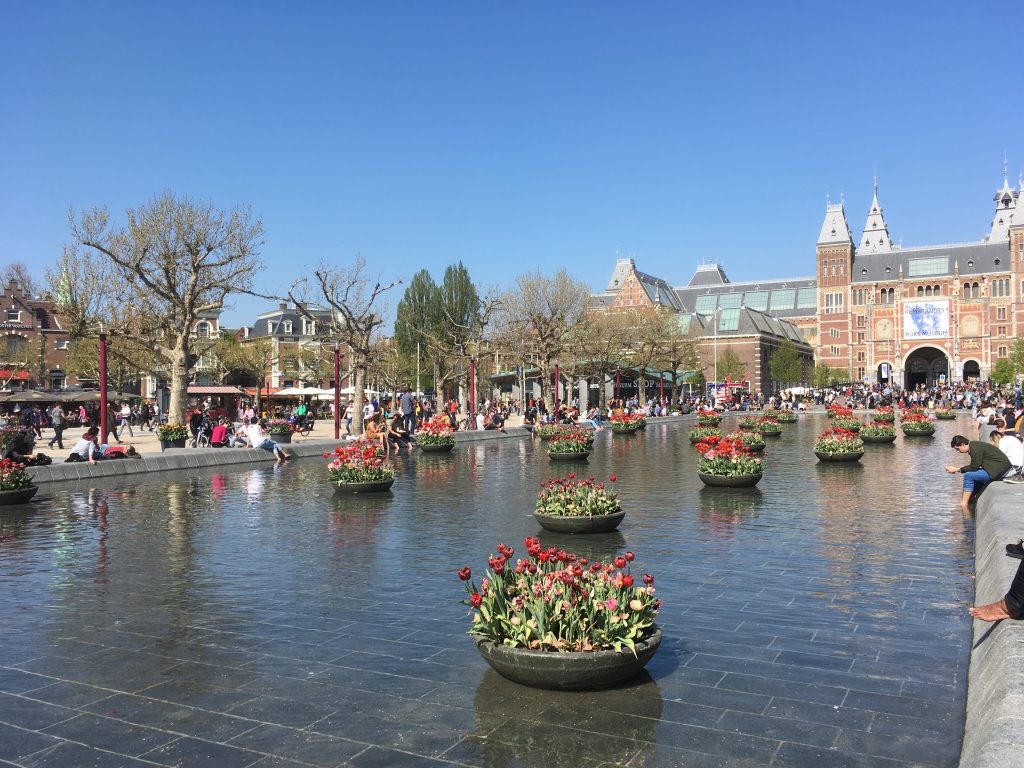 The day was quite hot, so people tried to cool them by putting their legs into the water.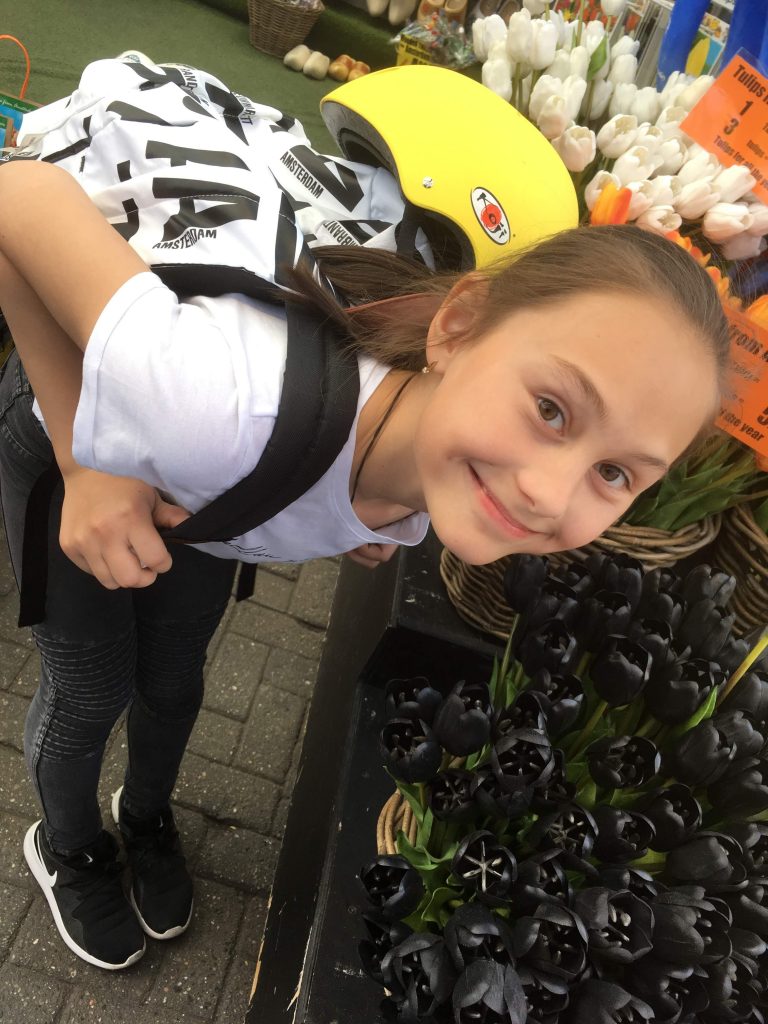 Different kind of tulips were all over the city. Here my daughter saw black tulips for the first time in her life.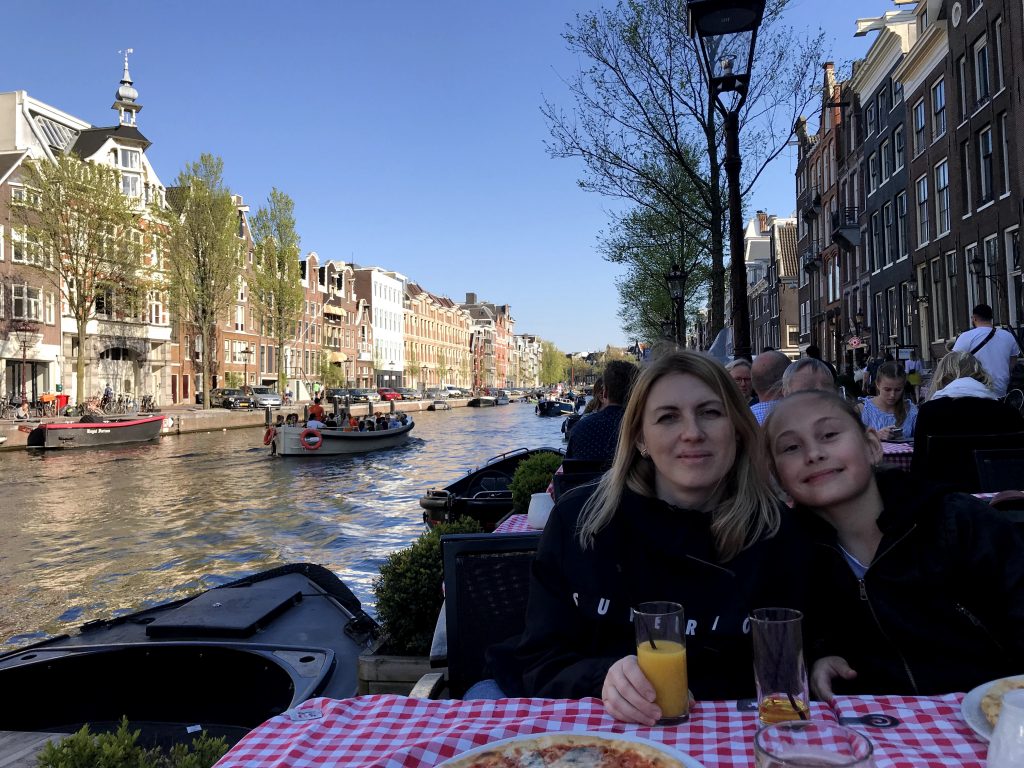 Sometimes we exchanged our hard bicycles seats to comfortable restaurant chairs near the channels.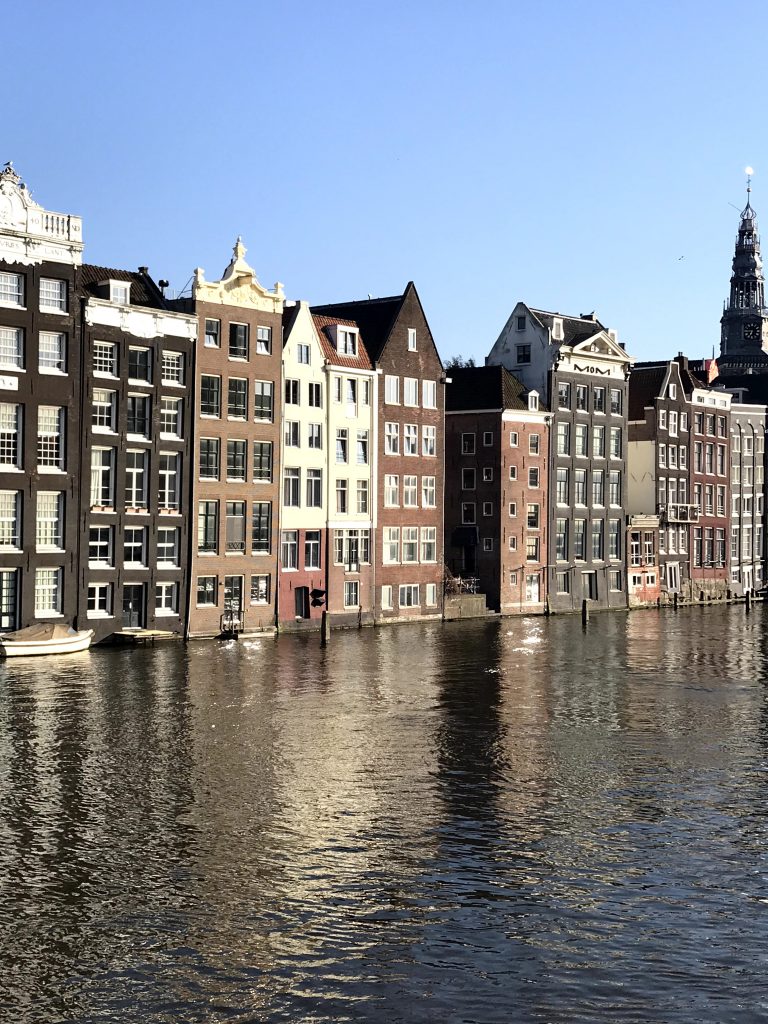 There is also another reason, why some buildings are tilted: many of them stand on swampy grounds and got warped over the years.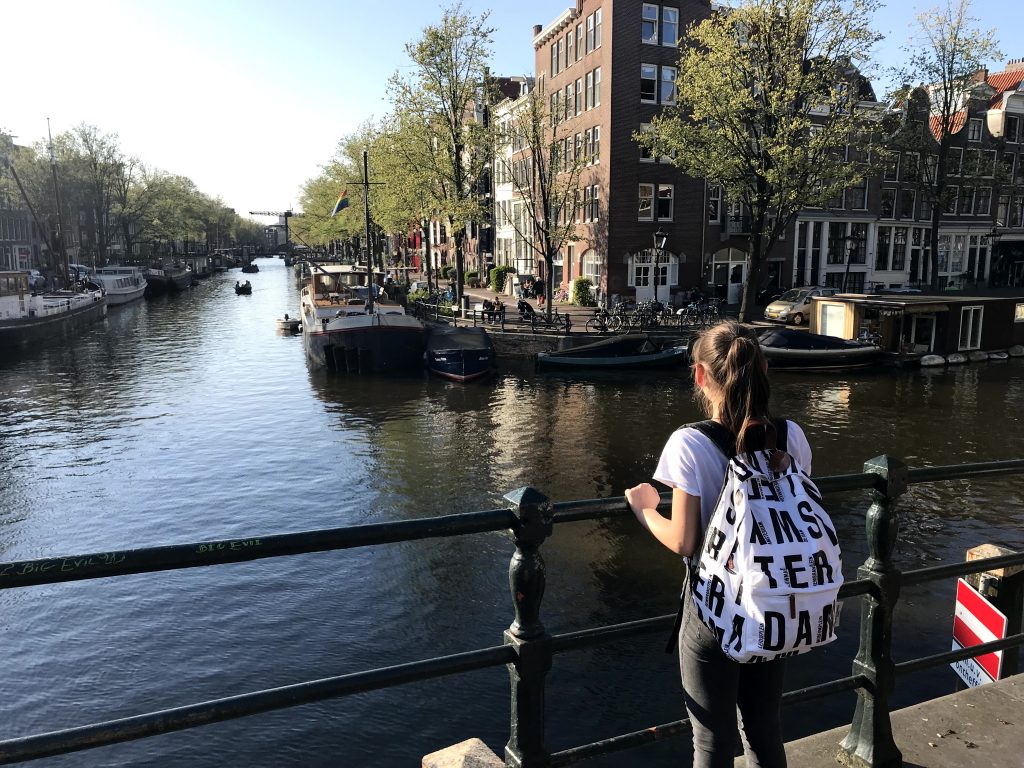 Although the city is quite overcrowded, there are still many quiet places just to stand and meditate.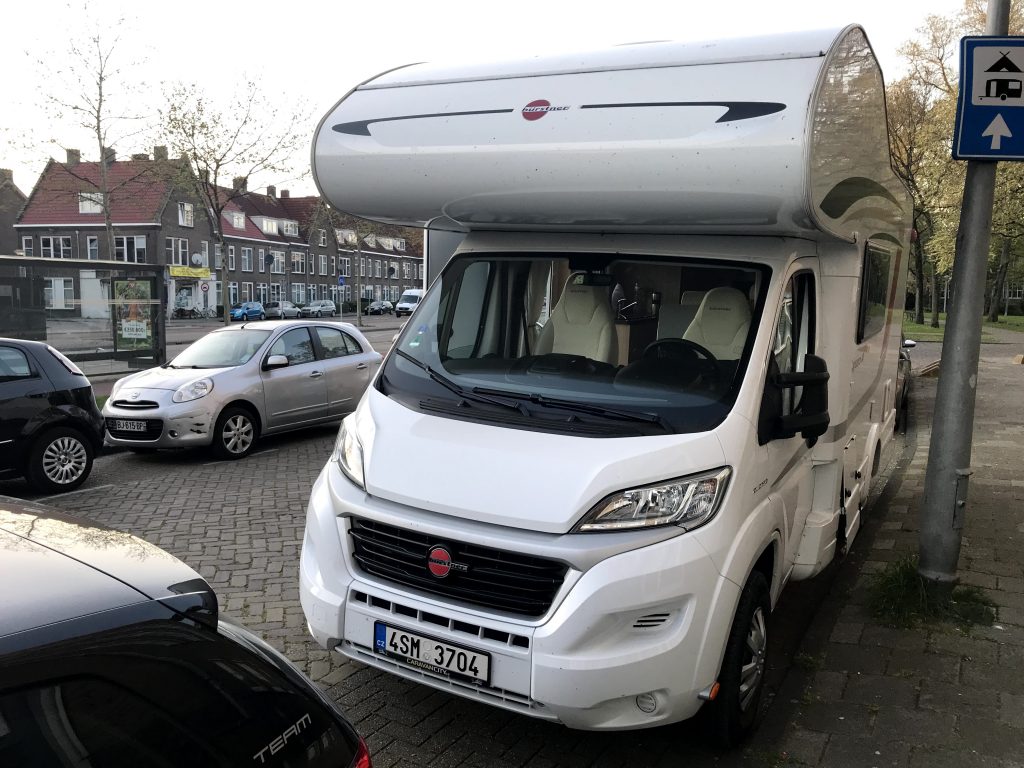 But the time is over and we have to return back to our elephant waiting patiently for us to continue our trip. This time towards the coast of the North Sea.
To be continued.